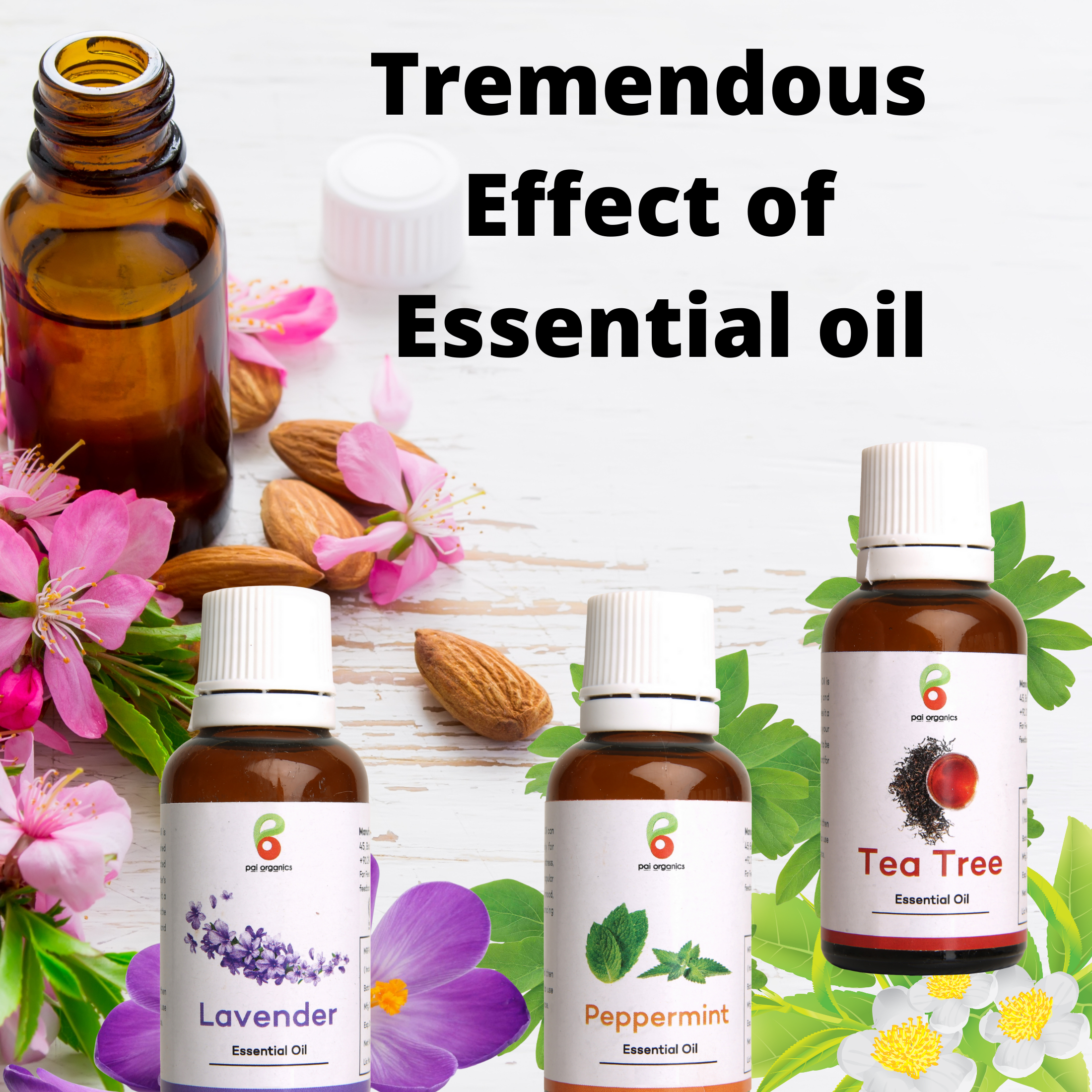 Essential oils are pure, aromatic, highly concentrated, volatile, and light to touch oil. Essential oils are obtained from non-fatty parts of plant material. Essential oils contain many strong chemical properties extracted from plants that are advantageous for health.
One of the benefits of essential accommodation is enhancing hair health, which has long been used in cosmetic products. Now hair care products like shampoo, serum, conditioner, etc. But nothing best than using these healthy oils in pure form than mixed with chemicals that are not favorable.
For people who like to form their beauty care or health care product, essential oils are their most outstanding choice. Essential oils tend to add double the beneficial property when added to products. Also, because of their pure aromatic nature, essential oils help in mental health.
Essential oil or carrier oil difference
You might have wondered many questions like "Why can't we use essential oil directly?" or "Why use essential oil when carrier oil comes from plants?" 
"Essential oil made by non-fatty parts of plants, which makes them superior to carrier oil. And their high concentration is why they can't be used directly."
(Related - How Essential Oil are Extracted Manually)
Essential oil for damaged hair and hair growth
For non-healthy hair, their several reasons sometimes, it could be genetic. Another reason behind hair fall or lousy hair health is hormones, climate changes, stress, and deficient immunity. Although when genetics reason behind awful hair, essential oil can't help with it.
Damage to hair due to climate can be improved by maintaining your lovely hair with extra care. And when it comes to caring for health nothing better than watching with natural means. Here are some essential oils which give the best result in hair treatment.
Lavender Essential Oil for Speed-up Hair Growth
Lavender oil has anti-bacterial and anti-fungal components that speed up hair growth. In addition, lavender oil helps to growth of cells and reduces stress.
Mix lavender essential oil in three tablespoons of carrier oil (olive or coconut oil) and massage with it. And leave your hair for at least two or three hours, then wash normally with regular shampoo. It can be used two-three times per week for early results.
Peppermint Essential Oil Hair Growth
Peppermint oil helps in increasing scalp thickness and the number of hair follicles and promotes rapid hair growth. In addition, Peppermint essential oil contains menthol, which helps blood vessels to be more open, which increases blood circulation and indirectly with hair growth.
Mix peppermint essential oil (two drops will be enough)with any carrier oil (suggested olive or coconut oil). Use this oil for massaging your hair. Then, wash your hair with regular shampoo after five minutes.
Note: The mint property of this oil can bother you with the cold, so it's suggested not to leave the oil on for long.
Lemongrass Essential Oil for Dandruff Problem
Dandruff is the most common and widely known problem with almost every girl during climate change. Lemongrass essential oil helps with a dandruff-free scalp and highly recommend for it, which is the biggest reason behind hair fall. It also treats itchy scalp and dry scalps.
It gives the best result when used daily. Use it by mixing it in shampoo or conditioner.
Cedarwood Essential Oil for Hair Fall
Cedarwood oil helps with hair volume by balancing the Oil-producing glands and lessening hair fall. In addition, it improves scalp circulation and tightens hair follicles, which helps in hair growth. Also, treat alopecia areata (problem of hair falling in batches).
Cedarwood oil has anti-fungal and anti-bacterial properties, which can also help reduce dandruff.
Dilute cedarwood oil with a carrier oil (olive or coconut oil) and use the oil to massage your hair. Wash your hair with any regular shampoo after 10 minutes.
Tea Tree Essential Oil for Cleansing
Tea tree essential oil has cleansing, anti-fungal, anti-bacterial, and anti-microbial properties. These properties of tea tree oil open the closed follicles and don't let excess fat and hair product residue build up on the scalp, which helps in hair growth.
Mix three drops with carrier oil (coconut or olive oil) and apply to the scalp. Wash hair after 15 minutes of applying it. You can also use it by mixing ten drops of oil in shampoo or conditioner daily.
Note: Tea tree essential oil consistency varies, so it's important to read the manufacturing rule.
Ylang Ylang Essential Oil for Dry Hair
The ylang-ylang oil is ideal for dry, brittle, and rough hair. However, oil and sebum efficiency can cause dehydrated, flaky, and weak hair. And week hair is a common cause of hair breakage. Ylang-ylang oil stimulates sebum production and treats dry hair.
Add five drops of ylang-ylang oil into two tablespoons of warm oil (any carrier oil) and massage with it on the scalp. Leave the oil on for 30 minutes. After massage covering hair with a warm towel will result in even more promising.
Rosemary Essential Oil for Hair Growth and Thickness
This essential is suitable for those who want to treat hair growth and thickness. Rosemary oil is as good as minoxidil, a typical hair growth treatment. But great result comes with a little problem, giving slight itchiness as a side effect.
Mix rosemary oil with a carrier oil (olive or coconut oil) and massage properly. Wash with regular shampoo after 10 minutes. Using rosemary oil twice a week will give even better results.
Bergamot Essential Oil for Shiny Hair
If you feel your hair has lost its natural shine earlier, this essential is for you. Bergamot essential oil provides the proper nourishment and shines it needs.
Mix bergamot oil with a base oil and massage properly, and wash hair after 15 minutes with regular shampoo.
Thyme Essential Oil to Prevent Hair Loss
Thyme oil helps prevent hair loss and stimulates the scalp, resulting in hair growth. Also, treat alopecia areata as Cedarwood oil does.
Mix two tiny drops of thyme oil with a carrier oil (recommended olive or coconut oil) and massage with it. Wash with regular shampoo max after 10 minutes.
Note: thyme essential oil is the most intense necessary oil use. It's a minimal amount.
Eucalyptus Essential Oil for Itchy Scalp
Eucalyptus essential oil has many anti-bacterial properties. One of its properties is nourishing hair, lessening dandruff, and stimulating hair growth. Eucalyptus oil also heals the scalp if somehow any injury or bruises on the scalp.
Dilute the oil with a base oil and use it to massage the scalp. Wash the hair after 5 or 10 minutes with regular shampoo.
Precaution While Using Essential Oil
Essential oils are considered a pure form of plant material extracted using distillation. But this pure form makes them risky, too; essential oils are highly concentrated chemicals of plants.

Never use any essential directly on the skin or hair as well.

Sometimes it can irritate especially people with sensitive skin. Apply essential oil to a small part of the skin to ensure it doesn't rub it.

After massaging on hair, if you feel dizziness or irritation on the scalp, wash your hair immediately.  
Essential oils are best for your hair health and even for other purposes such as skincare or mental health. But it comes with little but endurable side effects in some people. One most significant points which can negotiate this side effect is always using essential oil after mixing it with a carrier oil.  
Jul 13, 2021

Category:

Blogs
Comments: 0