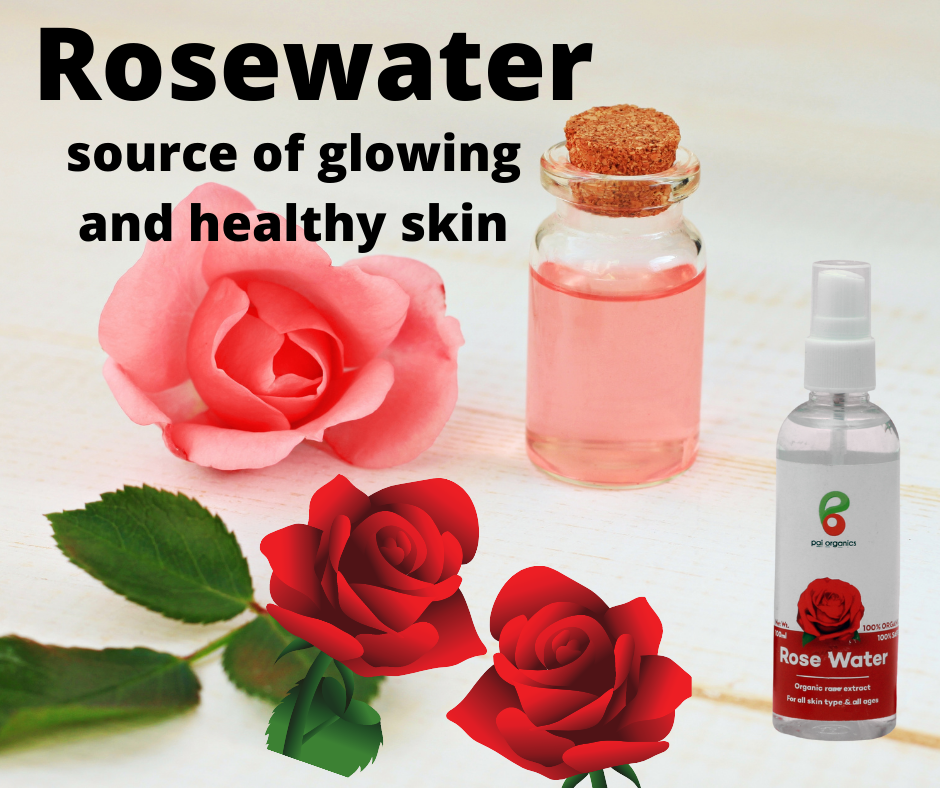 Rosewater is a kind of flavored water, abstract of rose petals gained from the distillation process. Rosewater is prominent for skincare routines and used by many people on daily basis for glowing skin. Rosewater is used from ancient times (used by queens for glowing skin and soothing of skin).
Rosewater is also used in beauty product cream, moisturizer, lotion, toner, and face washes to name a few. It also has a refreshing aroma so also used in perfumes, and other products for a good scent. Rosewater also has an antiseptic property that leads to clear and glowing skin.
Rosewater uses to face problems
Rosewater uses are very much known by some individuals but some are not aware of how beneficial is to use rose water. Using rose water for the skin on daily basis results in bloomy, refreshing, and youthful skin.
Rosewater as a skin toner
Whenever we ask about what skincare routine we should follow to keep the skin good and healthy. The very first step always involves using toner. Toner removes the dirt and oil from the skin and also maintains the PH balance of the skin.
The toner usually available in the market are chemical prone and may dry out the skin whereas using all-natural skin toner like rose water will keep the PH level of skin maintained.
Rosewater skin hydration
One of the best benefits of rose water is moisturizing the skin. It acts as an amazing skin hydration method. Moreover using rose water is very easy as well. All you need do is apply it on your skin either using a cotton ball or spray it directly on your face.
You can also use it directly in the face pack, lotion, and cream to increase the moisturizing level.
Rosewater as a makeup remover
Make remover available in the market has alcohol and harsh chemicals to remove makeup and may not suit every skin type. But Rosewater has soothing properties and work as a great natural makeup remover for all skin type.
To use it mix 2 spoons of rose water and 1 spoon of coconut oil and mix it well (coconut oil makes the solution even more effective). Remove the makeup using a cotton ball. Dip the cotton ball in the solution and gently remove the makeup with it. It also works great for removing eye makeup.
Rosewater for eye puffiness
Rosewater has anti-inflammatory properties and indeed reduces the redness in the skin. Rosewater is ideal to use for sensitive skin, its soothing properties suit every skin type. Rosewater also calms down the puffiness present in the skin.
Rosewater hydrates and moisturized the skin which makes the skin look so refreshed. Take a chill bottle of rose water and pat the rose water under the eyes with the help of a cotton ball.
Rosewater as setting spray
Setting spray also known as face mist is made of natural ingredients which provide nutrition to the skin and are good for the skin. In case you don't have setting spray, rose water is also as great to use as any other available face mist.
Rosewater and glycerin
Using rose water daily is great for the skin. But if are suffering from dry skin you can also add few drops of glycerin into rose water. Use the blend of rose water and glycerin on the skin before bedtime. It works marvelously to provide moisture to the skin.
And rose water will provide glow and hydration to the skin.
Dryness and dehydration can lead to premature aging, and also grant redness and itchiness. Drinking a lot of water also removes dehydration in the skin. Rosewater is prominent for giving a healthy glow to the skin and boosting the moisturizing level of the skin. 
Regular use of rose water can keep your skin free from white and blackheads, and prevent the skin from acne and pimples. The fresh aroma of roses will uplift your mood.
You might like - What is best essential oil for skin care?
Sep 14, 2021

Category:

Blogs
Comments: 0